Growing Chestnuts – General Information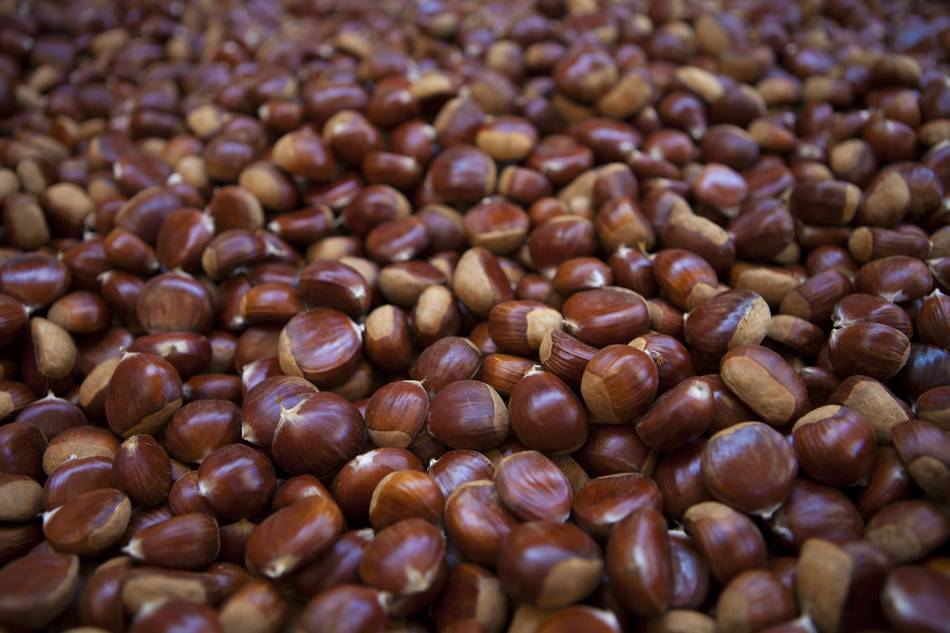 Although chestnuts have been grown in Australia for over a hundred years, a commercial industry has only been established since the 1970's.  As the Industry grows, it is developing its supply chains and establishing industry standards in relation to varieties and best practice orchard management and product handling practices. Industry members are working hard to continually update supply chains and build value added businesses around supply.
The majority of Australian production 70 – 80% is grown in the North East of Victoria – Beechworth, Stanley, Bright, Mt Beauty, Wandiligong and Myrtleford. In the South of the Divide Region of Victoria, chestnuts are grown in the High Country of Gippsland and the Macedon Ranges. Chestnuts are also grown in NSW and the ACT (around Orange, Tumbarumba, Canberra, Sassafras, Tenterfield and the Northern Tablelands), South Australia (Adelaide Hills), South West Western Australia and North-West Tasmania.
Production
Ideally chestnuts are grown in areas that are hot in summer and cold in winter and preferably 800 meters plus above sea level.
There are estimated to be approximately 300 growers across Australia, approximately 100 are members of Chestnuts Australia Inc. which includes most of the largest producers.
The industry though is characterised by a large number of small, family owned farms. There are a handful of large production businesses that make their primary or significant income from chestnut production.
Fast facts
1,000 hectares planted (200,000 trees)
Annual production estimated at 1,300 tonnes
Production expected to increase to 2,000 tonnes by 2025
Fully supplied domestic market
Imports of fresh chestnuts are banned except from New Zealand due to Chestnut Blight and other exotic pests and diseases
A small number of trees, approximately 5,300 were destroyed during the period 2010 – 2016 as a result of an incursion of Chestnut Blight
The farm gate value of production in 2016 was valued at A$12.5 million. This is expected to grow to more than A$16 million by 2025
Product attributes
As a product, the nutritional attributes, uses and versatility of chestnuts are little known by Australian consumers. One particular attribute is its suitability as a food for gluten intolerant people, which is a key strength for marketing purposes. Overall however, the product offering from the Industry is not well developed, nor are there strong, recognised brands. Unlike other horticultural products such as apples or potatoes, varieties are not usually differentiated at the retail level.
Markets and customers
Most chestnuts are sold through the wholesale markets in Sydney and Melbourne. Industry estimates that independent retailers achieve the most retail sales, followed by supermarkets, then farmers' markets and other supply chains. Significant volumes are also sold at farm gates. Rather than seeking specific varieties for their shops, most retail buyers depend heavily on their wholesaler to assist with their purchasing decision. Easy peeling varieties are now highly sought after. The chestnut (Castanea) belongs to the Fagaceae family which includes oak and beech trees. There are four main varieties:
Castanea sativa (European chestnut)
Castanea mollissima (Chinese chestnut)
Castanea crenata (Japanese chestnut)
Castanea dentata (American chestnut)
Whilst by far the most common variety in Australia is the European chestnut, there are small numbers of the other varieties, as well as some hybrids.
The traditional consumers of chestnuts are people with a European or Asian background who have historical links with the product and are familiar with its preparation, benefits and use. In past years, the product was positioned as an 'aspirational' or a gourmet product and has found a niche in the restaurant/fine dining sector of the food service market. By extension it is also sought out by dedicated 'foodies'.
The campaign 'Make everyday meals special with Chestnuts" was undertaken by Industry highlighting the everyday use and versatility of the product. Value added chestnut products such as frozen peeled, vacuumed packed, flour, cake mixes, purees and beer have also emerged to meet consumer demand. Value added products and improved storage technology mean that the product is available beyond the seasonal production window and this is helping to establish the product on restaurant menus. There is still enormous scope to further develop the demand for chestnuts by introducing new consumers to the product.
The export sector. There is potential to further develop export markets, but this will be influenced by the competitiveness of the Australian dollar and having access to quality fresh and value-added product. In recent years, there has been significant investment by growers to ensure the varieties that they are producing are meeting customer needs. This includes planting or re-working the preferred varieties and removing or not marketing non-preferred varieties and inferior seedlings.